Born with a vibrant passion for movement, Aude is a gentle dancing soul. Ever since her discovery of dancing and hand-balancing, she has felt a calling to play along with this combination of both fluidity and stability in order to create imagery which can inspire you. Her thirst for embodying all sorts of different concepts becomes manifest in her versatility and makes her entirely adaptable to all project types, much like water that takes shape wherever it flows. Regardless of where the flow of life carries her, she always strives to make these precious connections between the artists and the public where, simply as human beings, common feelings are shared in order to inspire each and everyone to pursue whatever interiorly awakes him or her on the way. Best wishes until we meet.
Aude is a hand balancer, contemporary dancer and choreographer. She was a trainee at the National Circus School and she has been approached by Cirque du Soleil to feature in its "Birthday Card Project". She is presently part of the show "BOUGE" by Le Gros Orteil circus company and she has been recruited by the circus company Starlight in Switzerland to be part of their show "Symphonie Lunaire". She has worked in collaboration with La Tohu for the Festival Montréal Complètement Cirque, for their season's launch and for their "Circoluza project".
She has participated in the following projects: trainee at rehearsals of the show "Triptyque" by Les 7 doigts de la main, she was one of the contemporary dancers in Kyra Jean Green's creation "The Man Who Travelled Nowhere in Time" at Place des arts for the Quartier Danse Festival, one of the two solo performers in the "Firebird" act at Rubberbandance show workshop at Domaine Forget, in "Humans in Circus" by Marie-André Robitaille's from Gynoide, in "Gamine" by Éliane Bonin of the Productions Carmagnole, in "Hot 5" by Zoey Gould from Upside Down Theater Circus and for corporative events with Cirquantique, Tentacle Tribe, Jardins Gamelin, Montreal Casino, "Nuit blanche" at Bota Bota spa-sur-l'eau and others.
The hand balancing act she will be performing offers a dreamlike view of the body's swaying movements which personify her query towards realizing whether hand-balancing has taken up her freedom.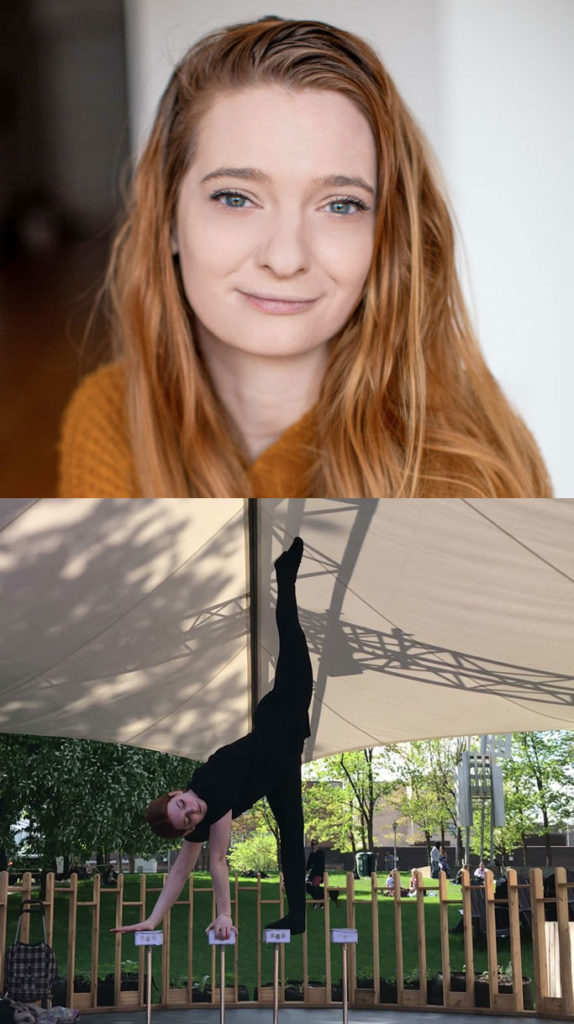 Photographers : Marie-Ève Dion & Jardins Gamelin
Hand balancing Act Demo : Équi «libre» et pièges. Studios – The 7 Fingers
Hand balancing Act Demo : Équi «libre» et pièges. Studios – The 7 Fingers
Handstand floor combinations
Generalist demo : hand balancing, dance, acrobatics, hand to hand, aerial silks and acro-contortion